The Board of Directors of the Saugeen Field Naturalists granted this year's conservation award posthumously to the late Bruce and Howard Krug of Chesley. Long time SFN member and friend of the Krugs, Clarke Birchard, delivered the citation. During the citation a slide of Howard and Bruce walking in the Kinghurst Forest Nature Reserve was projected on the screen.
"It is my honour to outline some of the many reasons why this award is appropriate.
The most recent reason is that in his will the late Bruce Krug bequeathed $ 25,000 to the Saugeen Field Naturalists to support the ongoing work of the club. That is not all of the support for nature provided by Bruce.
Across from the main entrance of Kinghurst and on the west side of the road is the 150-acre Murray Tract, bequeathed to Ontario Nature as an addition to Kinghurst along with a generous financial endowment to ensure its continual care.
Seven parcels of land within Bruce Peninsula National Park that were still owned privately by the Krugs were willed to Parks Canada.
Three parcels of land along the Niagara escarpment on the optimum route of the Bruce Trail were willed to The Bruce Trail Conservancy.
A generous financial bequest was given to the Bluewater Education Foundation to support and ensure the continuation of the Outdoor Education Centre near Oliphant.
Lest you get the impression that nature was Bruce's only interest you should know that local and Canadian history may have been even more of a passion. He was a founder and the first president of the Bruce County Historical Society. Almost 100 bankers' boxes of journals, photographs, post cards, books and other historical materials were willed to the archives. Two magnificent paintings depicting an early fur trade brigade on the Abitibi River and a typical pioneer settlers' farm are on display until May 2 at the Tom Thompson Art Gallery in Owen Sound.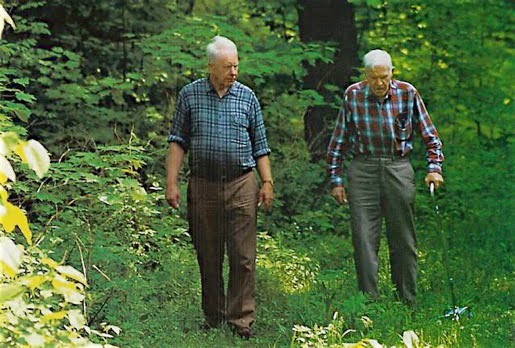 photo credit: Willie Waterton
And now a few reminders about the elder brother, Howard:
Howard was a founding member of the Saugeen Field Naturalists and for many years was an active member of this club, a participant on our early Christmas Bird Counts and he willed the Krugs' Kinghurst Forest Tract to Ontario Nature when he passed away.
Howard's extensive nature notes and bird banding records are now in the hands of the Bruce County Archives. His banding records have been sent to the Bird Banding Office of the Canadian Wildlife Service for checking. They also will be returned to the Bruce County Archives when the CWS has finished with them.
It is most fitting that the Krug brothers are the recipients of the SFN Conservation Award even if it must be posthumously. If they were here to receive the award they would be shy and self-conscious.
Their generous legacy will continue to benefit the Grey Bruce area for many years to come.